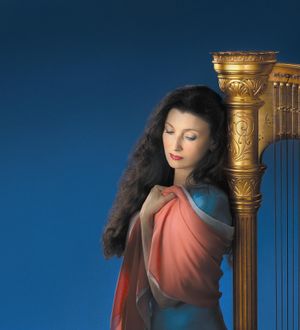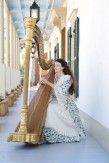 Please note: Due to technical difficulties, purchases of CD's can only be made by emailing Mair at mairrathburn@sbcglobal.net
With a four octave voice and musical style ranging all the way from Opera to Standards and Old Time, Mair (rhymes with "air") Rathburn is a popular entertainer throughout Southern California.  Her work in Church settings and as lobby harpist in Resort/Hotel situations has let to many concert opportunities.  One of her three CDs was selected for regular rotation by Muzak, Sirius, XM and JMX music services and chosen for airplay by EWTN radio. Tambien ofresce musica en Espanol.
Mair's main performance harp is a Lyon and Healy style 23, mahogany and bronze harp.  She also at times uses a 2015 Lyon and Healy Concertino.
Recent concert performances include:
(Contact your local librarian to request a concert in your neighborhood!)
El Cajon Historical Society
Disabled American Veterans
South Bay Women's Connection
Salvation Army Woman's Auxiliary
National Anthem at "Walk'n'Roll for Ataxia Awareness
San Diego Watercolor Society
DAR (Daughters of the American Revolution)
White Sands of La Jolla (Vespers)
Sunday vocalist, Airman Memorial Chapel, Marine Corps Air Station, Miramar
Special events, University of San Diego
Substitute vocalist, Marine Corps Recruit Depot Chapel
Women's Fellowship of Community Congregational Church of Chula Vista
San Dieguito Women's Club
AAUW (American Association of University Women) Rancho Bernardo