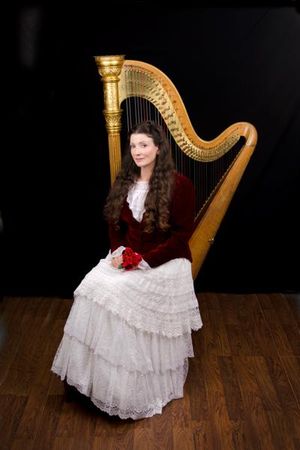 Bio and FAQ
Mair has a Bachelor of Arts degree in Music with an emphasis in voice, and is in constant demand as a vocalist as well as a harpist. She was a featured vocalist with San Francisco Civic Chorale and was a vocal soloist with the Golden Gate Park Band. Mair was the Sunday soloist at the Airman Memorial Chapel, Marine Corps Air Station, Miramar.  
Her "Christmas with the Harp" instrumental CD has been in regular rotation on Muzak, XM, JMX and Sirius music services and her CDs are heard on EWTN Radio. This CD is no longer available but has been re-released with vocals as "Lo, How a Rose".   She performs on a style 23 Lyon and Healy Concert Grand pedal harp in mahogany/bronze (shown on the home page), and a  Lyon and Healy Concertino. Mair  recorded her three CDs on a 1914 Lyon and Healy style 20 pedal harp.  Mair's repertoire runs the spectrum from classical to folk and contemporary music. Her singing has been compared to Sarah Brightman, and her playing to Harpo Marx, her performance, a dash of Andre Rieu and her fans range from ages 1 to 101.
Thanks and gratitude to harpsarizona.com for making my harp dreams come true.
San Diego harpist Mair is a harist for tea at the Westgate Hotel in San Diego and as a vocalist/harpist for special occasions and Churches.
FAQ'S ABOUT MAIR
Q. What made you start playing the harp?
A. I am passionate about music of many kinds, and have tried my hand at a number of instruments. I am of Irish descent, and fell in love with the history of the harp and those incredibly haunting Irish melodies. I learned a few on the Irish harp, and people began asking me to perform here and there, singing and playing the Irish harp. Eventually I made the switch to pedal harp.
Q. So you're self taught?
A. Mostly, yes. I learned about the harp the way an angleworm learns about fishing.  As I mentioned, I have a degree in music (voice) and studied piano throughout childhood. I applied what I knew about music theory to the harp, mostly improvising. Starting out with two harp lessons, and then finding much to my surprise that I was being asked to perform with it as accompaniment to my singing.  I was fortunate to find a wonderful, patient teacher who was willing to take me on as an adult professional. It was not easy to go back to the beginning and "unlearn". She  helped me tremendously, but I still have kept my own technique and approach.  Very few of the pieces I play are from harp scores. I am not implying that a person can immediately perform on the harp after two lessons. It takes many hours of practice and study.  
Q. Why do you wear long dresses? Why are harpists often wearing long dresses?
A. The harp has a series of pedals on the base that change each string from a flat to a natural or sharp. I find much more mobility, speed and comfort in a long dress. Many talented men play the harp, too.
Q. Why is your music so eclectic?
A. The harp is primarily a melodic instrument. For a piece to work on a solo harp, it has to have a clear, well defined melody. I cannot categorize melodies into Folk, Classical, Pop, etc. It is what you do to the basic melody that creates these pigeonholes. If I hear a beautiful, clear melody in any style of music, I have to try it on the harp. If it works, it stays in my repertoire. I think we do a disservice to people when we say, "This type of person cannot understand that type of music". I have chosen music with people for all events from Baptisms to Funerals, and without exception the people themselves have wanted a little of this style, a little of that. They don't even know they are being eclectic, they just know what they like. One thing that is consistent with these people and me is a clear melody that catches the heart. I always chose songs that have lyrics that are personally meaningful to me, and will not sing something that isn't.
Q. Do you take your own harp with you when you play?
A. Yes, and often move it myself with the help of a good dolly.  I do have a large car.
Q. Is it heavy?
A. I have two pedal harps.  One is a  2014 Lyon and Healy style 23 weighing 81 lbs in mahogany/bronze. The other is a 2015 Lyon and Healy Concertino. Once they are in their cases and on their dolly, they are close to 100 lbs.
Q. Don't you wish you played something that weighs less?
A. Actually, I did try didgeridoo, but somehow Schubert's "Ave Maria" just didn't sound the same on it.
Questions that are never asked, but I wish they were:
Q. What did you want to be as a child?
A. A veterinarian
Q. Hobbies?
A. My husband and I enjoy our pets. We have a rescue mutt from Tijuana, "Jessie the Mop" (a Scottie mix), a chocolate tabby cat named Otis, and two goldfish.  Rescue animals seem to know the difference between what they had and what you have given them, and REALLY appreciate you! 
We also love spending time in the mountains, and appreciating wild animals in their natural habitats.
Westgate lobby photo by Meghan McGuire